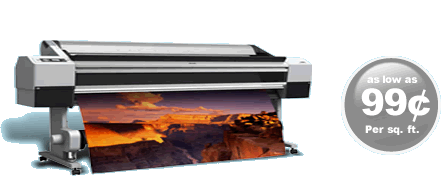 24h turnaround
on orders with the maximum width size of 4.5 feet (54 inch)
free Delivery
FOR Vancouver AREA for orders more than $500 (maximum of 10 miles around Vancouver)
Services list
Full Color Digital Banners (Indoor / outdoor)
A banner provides a flexible, portable and affordable way to put your message in many places. The versatility of full color banners, whether displayed horizontally, vertically, indoors or out, make them the ideal choice for just about any message you wish to convey. Canada Printing Center is the right place for your banner printing. The newest in vinyl banner printing and digital technology just got newer with indoor and outdoor full color banner printing. Our "any sized" color printed banners are a powerful communication tool that can be printed easily, quickly and affordably at PrintingCenter.ca. Depending on your banner printing needs, our digitally printed banners can be printed on fully hemmed and grommetted heavy duty outdoor vinyl banner fabric or full color high resolution grommetted indoor vinyl banner material utilizing the newest banner printing technology.
Vehicle graphics (Car Wrap)
Your car, truck, van or your entire fleet can be advertising for you at all hours of the day and night. During rush hour, in the parking lot or in a driveway, vehicle graphics are a smart advertising investment. use full color digital vehicle graphics to turn your vehicle into a rolling billboard. Use perforated window film to display advertizing on your car glass while maintaining visibility within. We can provide full digital vinyl wrap or partial wrap, custom cut car stickers, vinyl decals for car graphics. We can pretty much provide any solution for your car to reach your advertising goal.
Window Lettering & One way vision Signs
Dress up your storefront or vehicle windows with full-color graphics. Display your message on the outside using a unique perforated material that allows you to see through it from the inside looking out. Our custom window graphics can be applied to windows of any shape and size and help reduce the incoming sunlight without blocking the view.
Vinyl letters are customized to your measurements and specifications. Vinyl letters can be applied to nearly any smooth surface. Imagine any message or sign on a window, door, wall or floor. Canada Printing Center's team of installers (limited by zone) can apply full-color graphics on your window using one-way vision film, maintaining this way visibility within.
Posters or Canvas art
large format posters or digitally printed canvas art are the ideal way to easily decorate a room or an office. They can be used to send advertizing messages inside a store or at an exhibition and grab custommers attention. When it comes to banner printing or custom poster printing, our only limitation is your imagination! Canada Printing Center is your one stop solution.
Stationery
promote you image through personalised envelopes, letter heads or business cards. Postcards, flyers or brochures is a very inexpensive way of advertizing. Click here to see our packages.

1000 Color Business Cards: $149.00 (4+0) ( free ground shipping ) Design (optional) : $30.00
1000 Color Postcards: $189.00 (4+1) ( free ground shipping ) Design (optional) : $50.00